London is proudly home to the worlds greatest theatre productions and is celebrated annually in spectacular style at the Olivier Awards. This year the Oliviers inspired us to pay a visit to our theatres and support the wonderful array of talent and the diversity that the stage encourages, particularly as funding cuts surround this wonderful and necessary art form. We've compiled a list of our top ten theatre picks over the next few months in London and in the meantime, you can catch the Olivier Awards on ITV Hub.
The Pulverised – Arcola Theatre (Dalston)
One of London's leading off West End theatres, Arcola, will be home to The Pulverised in May. Alexandra Badea's drama originates from Strasbourg and brings together four characters from around the world in a powerful tale of globalisation.
24 Ashwin St, Dalston, London E8 3DL 
Madame Rubinstein – Park Theatre (Finsbury Park)
Madame Rubinstein is a brand new comedy set in 1950s Manhattan with BAFTA award winning Miriam Margolyes (Harry Potter, Romeo & Juliet) in the starring role. It follows the journey of Rubinstein from a Polish-Jewish immigrant, to one of the world's richest businesswomen.
Clifton Terrace, Finsbury Park, London N4 3JP
An American in Paris – Dominion Theatre (Tottenham Court Road)
If you're planning a musical this year, we're recommending Gershwins classic An American in Paris. Set in post war Paris, we meet three men vying for the mysterious Lise. The story is pushed along with inventive sets, vintage costumes and some serious ballet sequences. Book here.
268-269 Tottenham Court Rd, Fitzrovia, London, W1T 7AQ
Desh – Sadlers Wells (Angel)
For something truly unique, the brilliant Akram Khan Company returns with Desh – running for 4 nights only. In his solo piece Khan weaves together stories which take the audience from Britain to Bangladesh (his parents' birthplace). It's both personal and real, but mythic and magical.
Rosebery Ave, Clerkenwell, London, EC1R 4TN
Woyzeck – The Old Vic (Waterloo)
Jack Thorne of Harry Potter and The Cursed Child fame, waves his writing wand in a different direction this time (more towards Berlin in the 1980s). John Boyega plays a soldier trying to escape the poverty and destruction of the Cold War. Book your tickets now to avoid disappointment.
The Cut, Lambeth, London, SE1 8NB
Room – Theatre Royal Stratford East (Stratford)
This best-selling novel and Oscar winning film gets a stage makeover at Theatre Royal Stratford East this May. A wonderful tale of hope, imagination and strength is elevated even further with a chilling new score by songwriter Kathryn Joesph. Check out the free post show talk on 9th May.
Gerry Raffles Square, Stratford, London, E15 1BN
Common – The National Theatre (Waterloo)
Common at the National Theatre is a dark and comedic look on England's lost land set in the industrial revolution. This new play by DC Moore stars the brilliant Anne-Marie Duff as Mary; a woman on a mission to retrieve her former home. Make sure to check out special talks and events with the writer and director.
Upper Ground, South Bank, London SE1 9PX 
Guards at the Taj – Bush Theatre (Shepherds Bush)
Set in 1648 Guards at the Taj tells the tale of two Imperial guards and best buddies Humayun and Babur, who are witness to the completion of the Taj Mahal. This witty two-hander encourages audiences to question the relationship between art and privilege.
7 Uxbridge Rd, Shepherd's Bush, London W12 8LJ
On The Town – Regents Park Open Air Theatre (Baker Street)
For music, fun and some New York (who doesn't want New York?) head over to the glorious Regents Park Open Air Theatre and catch On The Town – directed and choreographed by Olivier Award winner Drew McOnie. Enjoy outdoor theatre at its best.
Inner Cir, London NW1 4NU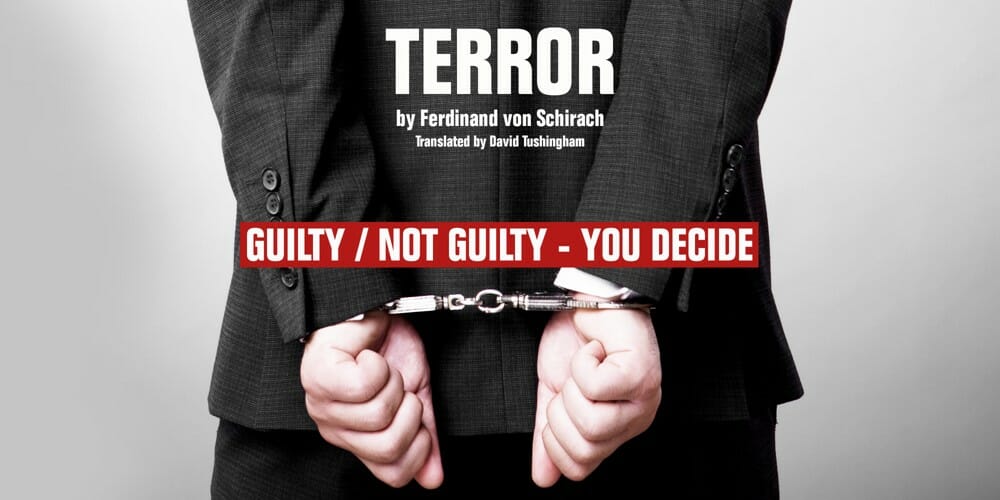 Terror – Lyric Hammersmith (Hammersmith)
Artistic director Sean Holmes directs this tense courtroom thriller by Ferdinand von Schirach, which leaves the fate of one person in the hands of the audience. Making its UK premiere, Terror gives you drama, tension and curiosity all in one night. Worth a watch? You be the judge.
One Lyric Square, King St, London, W6 0QL
Written by Nikki