Last week the Sunday Times officially announced Peckham as the top spot to live in London. The South London district has quietly transformed over the years and is now the place to see and be seen. It's a desirable mix of urban realness, underground cool and general artsy/unique things; a little different from last years winner Fitzrovia. To celebrate Peckham and all its awesomeness, we've compiled a list of the top TEN things to do (but hurry – before it gets too cool that it's not cool anymore).
The Four Quarters, Peckham Rye.
This amazing venue delivers gaming tournaments, film screenings and parties – but its main use is arcade gaming – simple, retro gaming that will bring up a lot of nostalgia. Enjoy some craft beer or some favourite pub grub and let the games begin.
187 Rye Ln, London, SE15 4TP
The Begging Bowl, Bellenden Road.
Bangkok comes to Peckham in The Begging Bowl bringing with it some serious flavour and some serious sounding dishes. All dishes are designed for sharing and come with rice. Why not try the rather elusive sounding 'stir fried morning glory' – you're in Bangkok after all.
168 Bellenden Rd, Peckham, SE15 4BW
Peckham Springs, Blenheim Grove.
You'll find no cheaper cocktail this side of the North-South UK border; at £6 – YES THAT IS CORRECT – you won't be disappointed with their strong offerings. A mere £3 during happy hour means we're the happiest we've ever been. Peckham Springs, we salute you and your hipster ways.
22A Blenheim Grove, London, SE15 4QN
The CLF Art Café, Rye Lane.
We recommend the CLF Art Café for some incredible music nights and also theatre – and why wouldn't we? They're co-productions range from The Royal Court Theatre to The Panta Rei Theatre Company, with new productions every month. Check out all their offerings here.
A, Bussey Building, 133 Rye Ln, London, SE15 4ST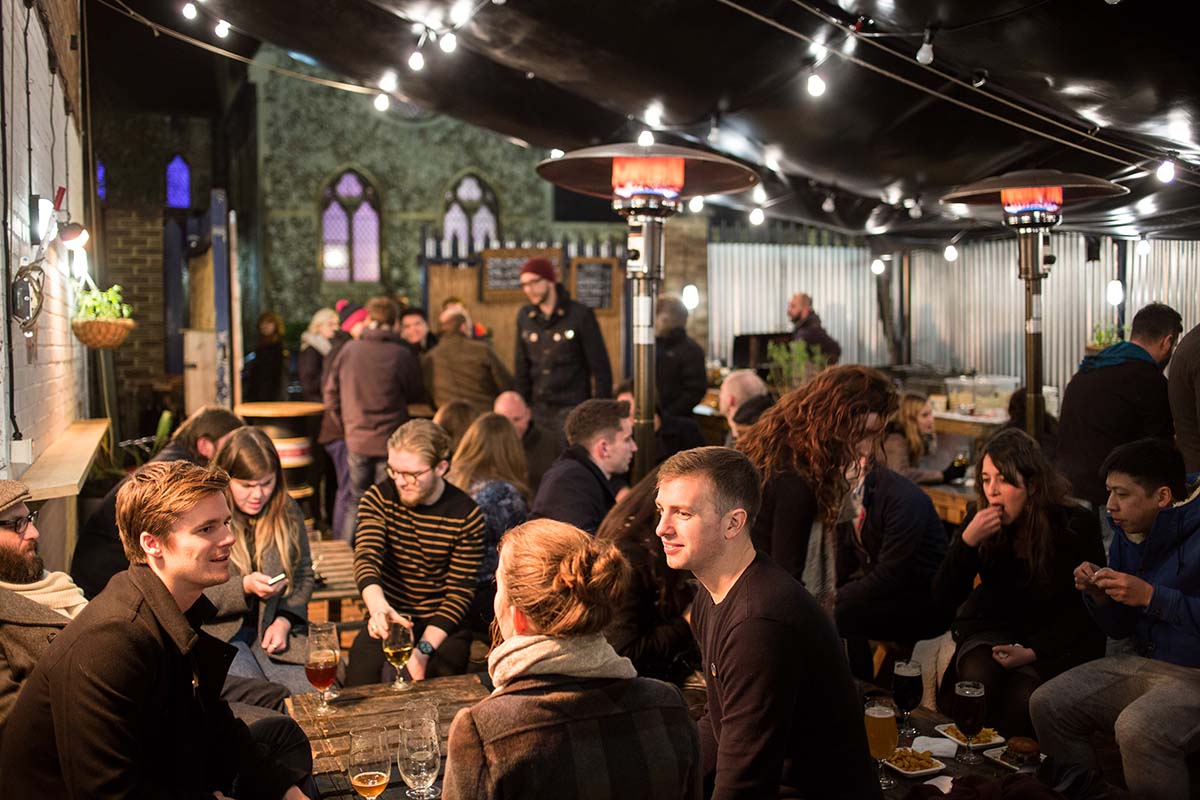 Brick Brewery, Blenheim Grove.
For the beer lovers out there we had to include Brick Brewery in the heart of Peckham. These guys turned a passion into a business; the owner Ian started out home brewing beer in a shed and it became so popular with his friends that it quickly evolved into what we know as Brick.
Brick Brewery, Arch 209, Blenheim Grove, London, SE15 4QL
South London Gallery, Peckham Road.
There is no place like London for art and the South London Gallery is a must for those culture driven days. The next exhibition here is by Erik Van Lieshout from 7th April-11th June and explores his experiences living and working in the Netherlands and beyond. Click here for more information.
65-67 Peckham Rd, London, SE5 8UH
Peckham Platform, Peckham High Street.
From the 22nd March-2nd April catch Playback at Peckham Platform and support our national talent. The Playback Tour comprises over 145 short films of all types and genres, made by 16-24 year olds from across the country (thanks to Arts Council England & Channel 4). Check them out here.
89 Peckham High St, London, SE15 5RS
Peckham Library, Peckham Hill Street.
Standing tall and firm on our list is Peckham Library. The building – designed by Architect Will Aslop – won the Sterling Prize for Architecture in 2000. We love a coffee shop office day, but this library (as with all libraries) deserves to be supported and utilised as an inspiring work/study place.
122 Peckham Hill St, Peckham, London, SE15 5JR
Band of Bakers.
Everyone wants to be in a club and everyone loves cake. So a baking club sounds like a winner to us. We love that Band of Bakers has a warm community feel and that everyone can share and admire each others creations. Keep up to date with them and join in on their next baking gathering.
Peckham Rye Music Festival, Rye Lane.
Like Dalston, Peckhams underground music scene is a whole entity in itself. From the 12th-14th May check out this music festival celebrating local musical talent from Axel Boman, K15, DJ Gilla and many more. Get weekend access for £39.50 or singles days from just £15.
Written by Nikki